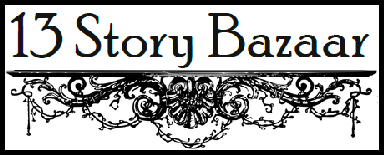 13 Story Bazaar
This is a pamphlet supplement & adventure for fantasy tabletop RPGs. You roll dice to create a tower of random stores with random events at each floor. It's good for a light side diversion, or can be ran as a one-shot.
The creature stats in the pamphlet are for Knave. You could easily replace those with stats from any other game. The core experience isn't system specific.
*Now includes an additional sheet for Troika! compatible NPCs, plus a bonus background!

If you like this, please check out my other pamphlets, The Library Beneath the Sands & In The Thicket.

13 Story Bazaar is an independent production by Jonathan Dersch and is not affiliated with the Melsonian Arts Council.

Download
Click download now to get access to the following files:
13 storiesv 1.1.pdf
966 kB
13 stories Troika NPCs + Aunt Eternal BG.pdf
598 kB
Comments
Log in with itch.io to leave a comment.
Ok this looks fantastic, like a mini-Gardens of Ynn style of generating linear adventure