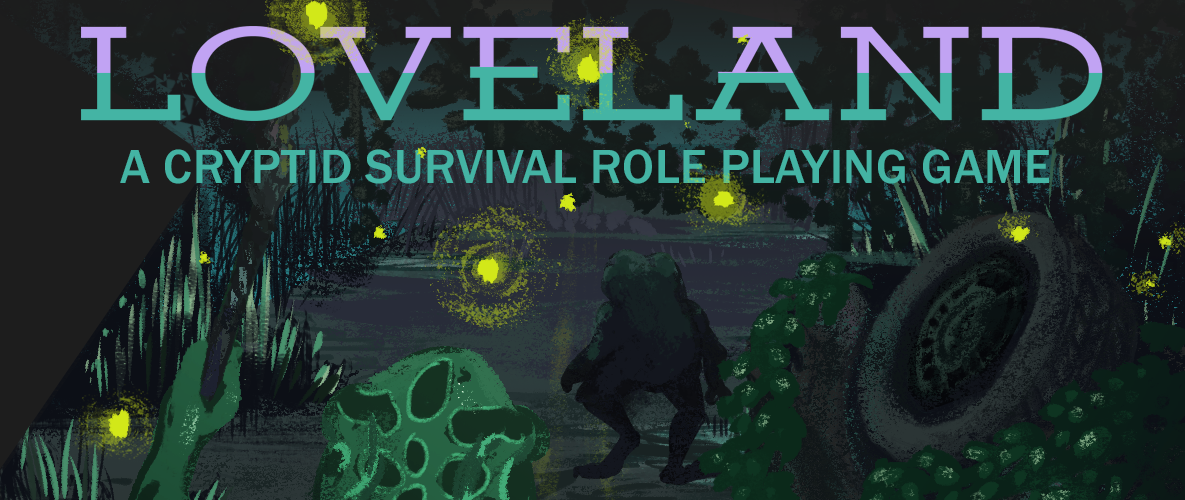 LOVELAND
A downloadable Role Playing Game
Hundreds of years after climate change killed humanity, the cryptids inherited the Earth. Living in the area once known as Loveland, Ohio are the Frogfolk. Not as strong or sophisticated as other new societies, their success can be attributed to their teamwork. Within their village each Frog is a member of a guild. Some are craftsmen, others provide services, but all are equally important in the survival of the village.

You are a member of the Gatherers Guild. It's your job to venture out of the village, gather supplies, explore ancient ruins, and communicate with other factions.

SWORDDREAM/OSR style game
Complete system + adventuring location + dungeon
Unique advancement system encourages exploration and gathering over fighting
Setting inspired by legendary creatures of Ohio and surrounding states
Be a cute frog person!
Art by https://twitter.com/whitchbore
Writing by https://twitter.com/JonathanDersch


This game was made for #DREAMJAM

Purchase
In order to download this Role Playing Game you must purchase it at or above the minimum price of $5 USD. You will get access to the following files:
LOVELAND RPG v1.0.pdf
3 MB
LOVELAND RPG v1.1 printer friendly B&W.pdf
1 MB
RPG
Support this Role Playing Game at or above a special price point to receive something exclusive.
Community Copies
Each copy of LOVELAND you buy helps someone else grab a free copy if their budget doesn't enable them to pay the listed price. If you're unable to budget for a copy of LOVELAND priced as listed, please claim one of these free copies from the community.